Injectable Stem Cell Therapy for Osteoarthritis
Coating stem cells in a novel protein aids binding to gelatin, targeting the cells to degrading collagen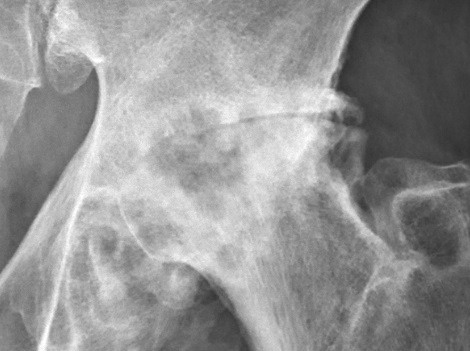 Background
Osteoarthritis (OA) is a type of joint disease that results from the breakdown of joint cartilage and underlying bone. The main symptoms of OA are pain, stiffness and loss of function in the affected joint which all develop over time. Within the UK OA is the most common type of arthritis and is thought to affect a third of people aged 45 or over (8.75 million people). In the US osteoarthritis affects approximately 27 million. The most common kind is knee OA. The odds of developing knee arthritis are seven times higher in overweight/obese persons than in people of normal weight
Current treatments for OA are symptomatic therapies that aim to provide pain relief and improve function as well as offer a disease-modifying effect; however, available treatment modalities have limited therapeutic effect, and more than half of OA patients are unable to achieve adequate pain relief with any of the current treatments and will remain with chronic pain until ultimately the whole joint is replaced.
Technology Overview
It has been previously shown that OA cartilage shows collagen degradation, starting at the articular surface and leading to an accumulation of denatured collagen also known as gelatin, at the articular surface. Recent clinical trials have described how the injection of mesenchymal stem cells (MSCs) into the joints of ageing osteoarthritis (OA) patients, leads to a reduction in pain. Researchers at the University of Liverpool have developed a novel method of targeting MSCs to the denatured Type II collagen in cartilage. The method involves the use of a novel protein which has enhanced binding to gelatin.
The researchers have demonstrated that coating the MSCs with this novel protein increases attachment to gelatin and hence has the potential to target them to degrading cartilage. In this way, a selective targeting of injected stem cells to the damaged cartilage could be achieved and could form the basis of a new therapeutic treatment for OA. Alternatively, the same modules could be linked to a cartilage-protecting drug and used to selectively deliver that drug into the damaged collagen in cartilage.
Applications
The OA pipeline is rapidly evolving thanks to improved understanding of the disease's pathophysiology and recent biomarker development. The Global Osteoarthritis (OA) market is expected to increase from $1.6 billion in 2016 to $3.5 billion by 2026 in the seven major markets (7MM)* at a compound annual growth rate (CAGR) of 8.1%, according to GlobalData, a provider of business information and analytics. Increasing life expectancy and obesity make OA a major health and economic burden worldwide. Whilst the researchers at the University of Liverpool would initially target our injectable stem cell therapy at knee OA patients, ultimately this could be extended to hip and to the finger joints. Even greater opportunity might be possible if the peptide could be used to deliver a drug molecule into the cartilage lesion.
Opportunity
The University of Liverpool is currently seeking a partner to provide expertise in the commercialisation of the technology.
Patents
Patent application filed in 2018.
IP Status
Patent application submitted